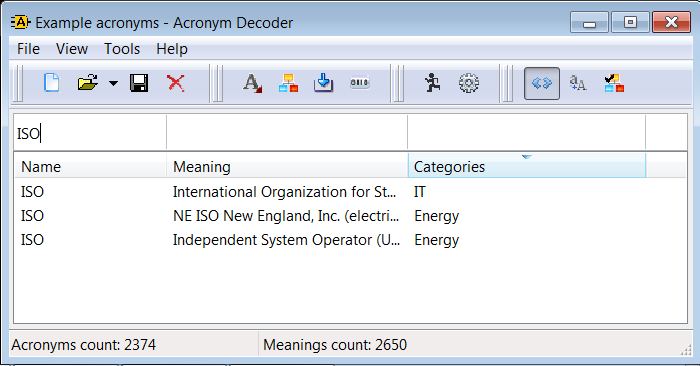 A simple tool for quick searching of meaning for various acronyms and abbreviations.
Features
Acronym database management
Quick searching by acronym name, meaning or category. Exact or partial match.
Acronym categories
Database stored as project file in open XML format
Configurable import from external web pages (http, https) with custom text parsing rules
Support for import from MS Access database file
Localized interface (English, Czech)
Allows minimization to system tray
Document check for acronyms occurrence, definitions and summary section
Download
Version 1.6.0 (2021-09-20):

Development
Developed using

​

Lazarus 2.0.12
Source code is versioned with Subversion and it can be downloaded by execute:

svn checkout https://svn.zdechov.net/AcronymDecoder/trunk

Latest Ubuntu packages can be downloaded from

​

Launchpad page
Contact
E-mail: Chronos <robie @ centrum.cz>
Attachments
(2)
Download all attachments as: .zip
Note:
See
TracWiki
for help on using the wiki.